The Trauma of Caste: Book Launch!
November 17, 2022 @ 8:30 pm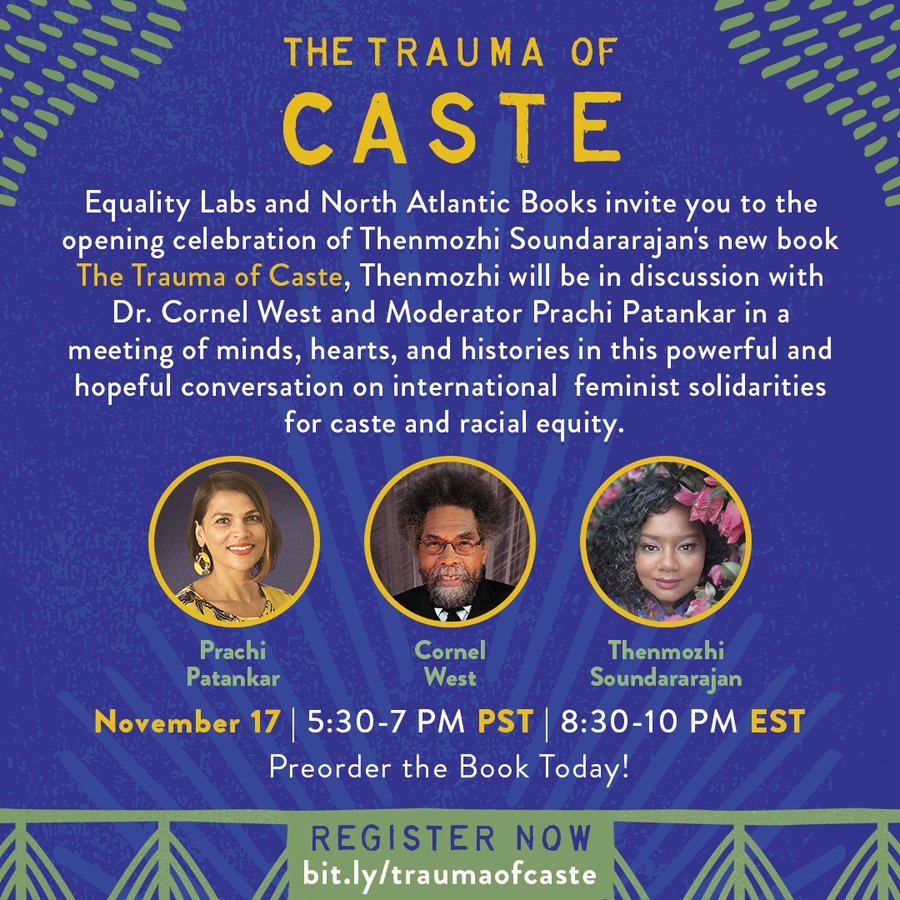 Equality Labs and North Atlantic Books welcome you to a meeting of minds, hearts, and histories as author and EL's executive director Thenmozhi Soundararajan is joined by philosopher Dr. Cornel West and Bahujan Activst Prachi Patankar as they celebrate and dig into Thenmozhi's new book The Trauma of Caste (releasing November 15, 2022).
The Trauma of Caste calls readers to urgent action as it demands an end to caste apartheid through a practise of grounded Dalit feminist abolition and engaged Buddhism. It explores how caste ravages many dimensions of the human spirit, and how a global movement rooted in love can be the antidote to this violent system.
Join us for this historic conversation and preorder the book today from Amazon, Bookshop, Barnes and Noble, or your favorite book store.
To learn more, visit the book's website.
About the Speakers
Thenmozhi Soundararajan is a Dalit American artist, community organizer, technologist, and theorist. Currently, Thenmozhi is the Executive Director of Equality Labs, which she co-founded. Equality Labs is one of the largest Dalit civil rights organizations working to empower caste-oppressed people in the US. Through her work at Equality Labs, Thenmozhi has mobilized South Asian Americans towards dismantling eons-long systems of oppression, with the goal of ending caste apartheid, gender-based violence, white supremacy, and religious intolerance.
Her intersectional, cross-pollinating work—research, education, art, activism, and digital security—helps to create a more generous, global, expansive, and inclusive definition of South Asian identity, along with safe spaces from which to honor the stories of these communities. Thenmozhi's work has been recognized by the U.S. Congress, The Smithsonian Asian Pacific American Center, The Producers Guild of America Diversity Program, The Museum of Contemporary Art, The Sorbonne, Source Magazine, Utne Reader, The National Center for the Humanities, The National Science Foundation, The Ford Foundation, and The Alfred P. Sloan Foundation. She is a frequent contributor on issues related to South Asia, caste, gender, and racial Equity, as well interfaith issues and peace building, and has been featured in the New York Times, Washington Post, BBC, Guardian, ABC, and NBC news. She was also an inaugural fellow of the Robert Rauschenberg Artist as Activist, Atlantic Foundation for Racial Equity, and is a current fellow at Stanford Center for South Asian Studies. You can order her new book The Trauma of Caste from North Atlantic Books to learn more about her work around caste equity, abolition, and healing.
Dr. West is the former Professor of the Practice of Public Philosophy at Harvard University and Professor Emeritus at Princeton University. Cornel West graduated Magna Cum Laude from Harvard in three years and obtained his M.A. and Ph.D. in Philosophy at Princeton.
He has written 20 books and has edited 13. He is best known for his classics, Race Matters and Democracy Matters, and for his memoir, Brother West: Living and Loving Out Loud. His most recent book, Black Prophetic Fire, offers an unflinching look at nineteenth and twentieth-century African American leaders and their visionary legacies.
Dr. West has partnered with MasterClass.com to provide teachings on several influential courses including a class with Pharrell Williams on Empathy, MasterClass's first-ever multi-instructor class on Black History, Black Freedom & Black Love, as well as Dr. West's standalone class on Philosophy. Visit www.cornelwest.com and click the MasterClass banner to learn more.
Prachi Patankar: Born and raised in rural India, Prachi was raised by a freedom-fighter grandmother and parents deeply involved in anti-caste, feminist, and peasant movements. Over two decades in New York City, she has been an activist, educator, grantmaker, and writer involved in social movements which link the local and the global, police brutality and war, migration and militarization, race and caste, women of color feminism and global gender justice.
Prachi works as the Senior Program Officer at Foundation for a Just Society, where she leads the program to provide funding to gender justice movements in South and Southeast Asia. Through her work with organizations such as Afghan Women's Mission, CAAAV and Palestine Education Project, Prachi has been involved in innovative projects to link social justice movements between the United States and the Global South. She serves on the Advisory Board of the Human Rights Funders Network and the Grantmakers for Girls for Color. Prachi believes in the vital power of intersectional and international visions and strategies, which resonate across Dalit rights and Black lives, migrant justice and gender justice, to build bottom-up change from the local to the global.
North Atlantic Books (NAB) is an independent nonprofit publisher committed to a bold exploration of the relationships between mind, body, spirit, culture, and nature. Founded in Vermont in 1974 and operating in Berkeley since 1977, NAB has been at the forefront of publishing a diverse range of original books in bodywork and somatics, ecology and sustainability, health and healing, Indigenous cultures and anthropology, psychology and personal growth, social justice and engaged activism, and spirituality and liminality.