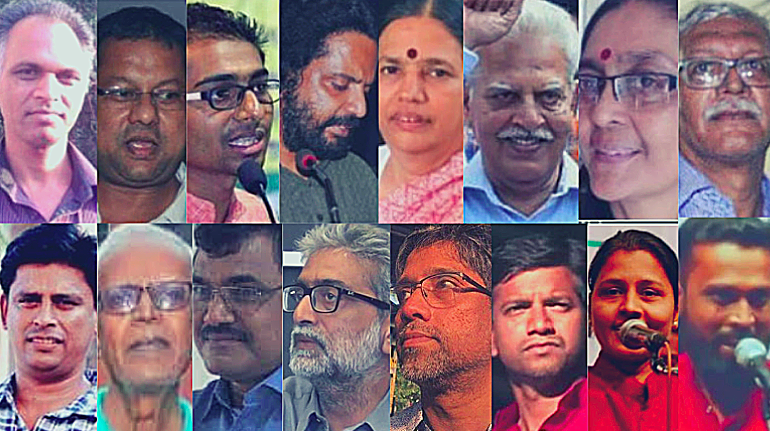 NEWSFLASH
A forensic investigation conducted by Boston, USA-based Arsenal Consulting has shown that key pieces of evidence against the BK-16 accused were fabricated and planted through the use of malware over several years. You can read all three reports by Arsenal – report 1, report 2, and report 3 – and more about the story at the Washington Post.
INTRODUCTION
The BK16 campaign is aimed at mobilizing international support and attention to the surveillance, persecution, framing, and arrests since June 2018 of sixteen human rights and civil liberties defenders and public intellectuals. These include lawyers for people's movements for workers, Dalits (India's most oppressed and exploited caste groups), Adivasis (India's indigenous people), and Muslims (India's largest minority), teachers and university professors, writers, poets and artists, journalists, union organizers.
The one common thread uniting each of these individuals is that they are outspoken organic intellectuals and activists, many of who are Dalit, and all of who are leading critics of Hindutva (ethno-ultranationalist supremacist ideology) which is the ruling party's ideology in India today. Collectively these sixteen individuals – Surendra Gadling, Sudhir Dhawale, Rona Wilson, Shoma Sen, Mahesh Raut, Sudha Bharadwaj, Gautam Navlakha, Arun Ferreira, Vernon Gonsalves, Varavara Rao, Anand Teltumbde, Gautam Navlakha, Fr. Stan Swamy, Sagar Gorkhe, Ramesh Gaichor, and Jyoti Jagtap – have come to be known as the BK16. All have been falsely accused under the draconian Unlawful Activities Prevention Act (UAPA or India's dreaded 'terror laws') which have been used to incarcerate all publicly dissenting citizens of India. Their case has come to be known as the Bhima-Koregaon case.
In its essence, the campaign defends the fundamental rights guaranteed by the Constitution of India of citizens – all of which including the right to liberty and the right to freedom of speech and expression are currently under assault. It is also defending the right to dissent, which is the lifeblood of any democracy.
It is testament to the deterioration of basic democratic norms in India that the government has gone after champions of people's rights, many of who have severely compromised health conditions exacerbated by the global pandemic – such as 83-year-old Fr. Stan Swamy – a Jesuit priest whose death while in custody has outraged the world, 80-year-old poet Varavara Rao who was granted conditional bail only after a huge protests at his incarceration despite failing health, and 70-year-old professor and leading public intellectual and critic of fascism Anand Teltumbde. Despite appeals from human rights observers all over the world (the UN Special Rapporteurs, Members of the European Parliament, Amnesty, leading and respect academics and scholars from around the world) for their immediate release, the BK16 continue to remain incarcerated as the face of India's most well-known political prisoners.
BK CASE BACKGROUNDER
The Bhima Koregaon Case: Charges, Irregularities and Planted Evidence (Arsenal Report)
The Unlawful Activities Prevention Act (UAPA) and why it is Problematic
BK16 and the Spate of UAPA Arrests
QUICK READS
How the UAPA Repackages Ideas As Crimes
Solidarity Statements from Around the World
American Bar Association Report (October 2019) on BK Case procedural irregularities, abuse of process, and violations of fundamental human rights.
Urgent call by American Bar Association demanding release of "arbitrarily detailed human rights defenders amid the COVID-19 pandemic."
130 Lawyers appeal for prisoner release under COVID