Political Incarceration in India and the United States of America
July 30, 2022 @ 11:30 am

-

2:30 pm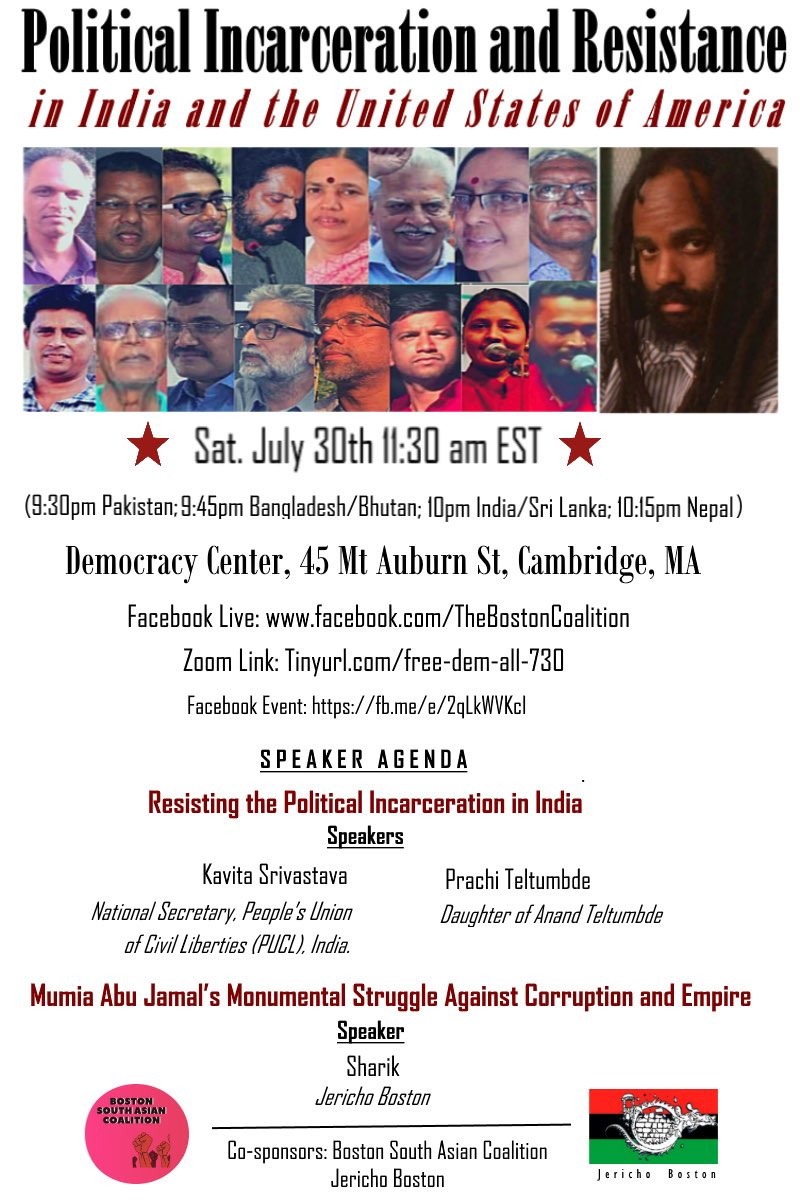 A talk on political prisoners in the US and India. This event is co-organized by the Jericho Movement and Boston South Asian Coalition www.thejerichomovement.com ; bsac.contactin.bio
[9:30 pm Pakistan; 9:45 pm Bangladesh/Bhutan; 10:00 pm India/Sri Lanka; 10:15 pm Nepal]
Democracy Center, 45 Mt Auburn St, Cambridge, MA
Facebook Event Page: https://fb.me/e/2qLkWVKcI
Facebook Live Page (Hybrid Event): https://www.facebook.com/TheBostonCoalition/
Zoom Registration: www.tinyurl.com/free-dem-all-730
Facebook Live starts: 12 noon EST; 9pm Pakistan; 9:30pm India/Sri Lanka; 9:45pm Nepal; 10pm Bangladesh/Bhutan
The demand to release incarcerated political activists in South Asia and the United States is gaining momentum. The incarceration of Bhima Koregaon 15 (BK 15), the institutional murder of Father Stan Swamy, and recent arrest of Teesta Setalwad and Mohammad Zubair has been condemned worldwide. In the US, the struggle to release the famous political prisoner Mumia Abu Jamal, who is well known for his powerful struggle against the Philadelphia political machine and analysis of current events.
11:30am EST will discuss the state of political prisoners in India and the US.
Resisting the Political Incarceration in India
Kavita Srivastava is the national secretary of the People's Union of Civil Liberties (PUCL). She is a dedicated human rights worker, working collectively towards restoring democracy, justice and ending inequalities.
Prachi Teltumbde is a doctor and researcher based in London. She is also the daughter of Anand Teltumbde, a prominent public intellectual and one of the BK 15.
Mumia Abu Jamal's Monumental Struggle Against Corruption and Empire
Sharik is a member of Jericho Boston, which has been organizing to liberate dozens of US political prisoners.
– Full vaccination and indoor masking will be required for in-person attendees
– Accessibility: The democracy center is a partially accessible space, with a wheelchair ramp in addition to 8 steep steps into the building. There is one gender-neutral bathroom that is not wide enough for wheelchair accessibility on site, with the neighboring building offering a wheelchair-accessible bathroom for use. You can find full details about space accessibility and process of improvement at
democracycenter.org.
While we will not be burning or spraying anything, we unfortunately cannot guarantee this public event will be fragrance-free.