Hindus for Human Rights (HfHR) is an American nonprofit, nonpartisan organization founded in 2019. It is rooted in the values of the Hindu faith: shanti (peace), nyaya (justice), and satya (truth); and it envisions a world defined by lokasangraha (the universal common good) — where there is peace among all peoples.
HfHR was founded by a group of concerned Hindu Indian-Americans following the re-election of Indian Prime Minister Narendra Modi and his Hindu nationalist Bharatiya Janata Party in the summer of 2019. At that time, most Hindu organizations in the diaspora were either silent on the issues of Hindutva and caste or were actively propagating hate against minorities in India. H4HR 's objectives are twofold: it seeks to counter the forces of hate and bigotry within its own communities and tries to provide a Hindu voice of resistance to caste, Hindutva (Hindu nationalism), racism, and all forms of bigotry and oppression.
H4HR is a rapidly growing organization. It has four full-time staff members, along with an administrative coordinator, program assistant, and a research fellow. Although most of its staff and members are based in the United States, it has growing chapters in Australia-New Zealand and the United Kingdom, and members from India and indeed all over the world as well.
H4Hr works with a broad coalition of secular partners, including Dalit, Muslim, and Christian allies, to educate U.S. elected officials and the public about civil and human rights issues in South Asia. Its advocacy takes many forms, including briefings for U.S. government officials, peaceful protests, op-eds, webinars, conferences, and social media campaigns. It also concentrates on mobilizing Hindus to speak out in support of human rights and justice for all.
As a Hindu organization, one of H4HR's top priorities is combating the harmful influence of Hindutva-aligned groups in the diaspora. Last year, it successfully forced the Vishwa Hindu Parishad of America to cancel a series of virtual events featuring extremist Hindu priest Yati Narsinghanand Saraswati, who has called for genocide against Muslims on several occasions. More recently, it organized a letter-writing campaign focusing on a Hindu temple in Houston that sponsored a car rally in support of Uttar Pradesh Chief Minister Yogi Adityanath.
H4Hr has also strongly spoken up in favor of efforts to address caste discrimination in American workplaces and educational institutions, providing public statements to the Santa Clara County Human Rights Commission and the California State University Board of Trustees. It believes that it's important to counter the Hindu organizations who claim that confronting caste is "anti-Hindu" or "Hinduphobic."
H4Hr continues to be an ally and to build partnerships with the broader progressive movement and struggles for racial, environmental, social, and economic justice. Last year, it participated in a multi-faith delegation to northern Minnesota, where it joined Indigenous activists in protesting the Line 3 oil pipeline. Just a few weeks ago, it organized the first-ever Indian-American Delegation to the Selma Bridge Crossing Jubilee in Alabama, with a multi-faith, multi-caste "rainbow coalition" that comprised of HfHR, Dalit Solidarity Forum, Indian American Muslim Council, and India Civil Watch International.
At a time when human rights in India are being threatened like never before, H4HR believes it is its duty to stand in solidarity with people's movements here in the United States and worldwide.
Follow H4HR on Social Media!
Facebook: https://www.facebook.com/Hindus4HR/
Twitter: @Hindus4HR
Instagram: @hindusforhumanrights
Website: https://hindusforhumanrights.org/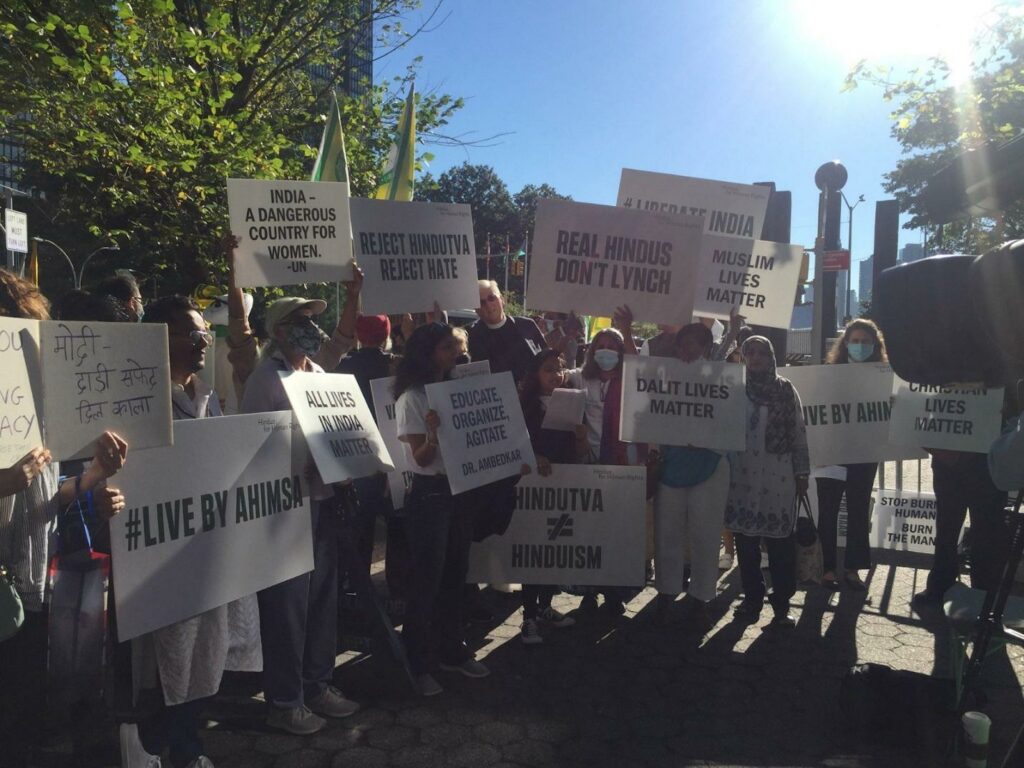 Protesting Narendra Modi's visit to the United Nations Headquarters in New York. September 2021.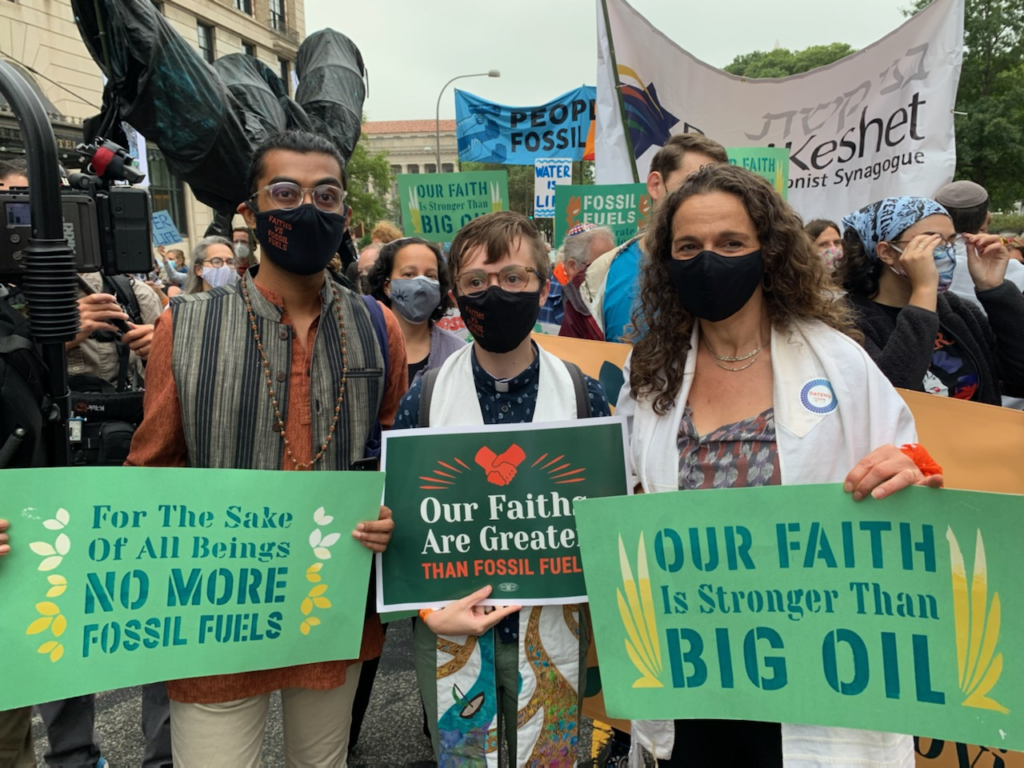 At the People vs. Fossil Fuels week of action in Washington, DC. October 2021.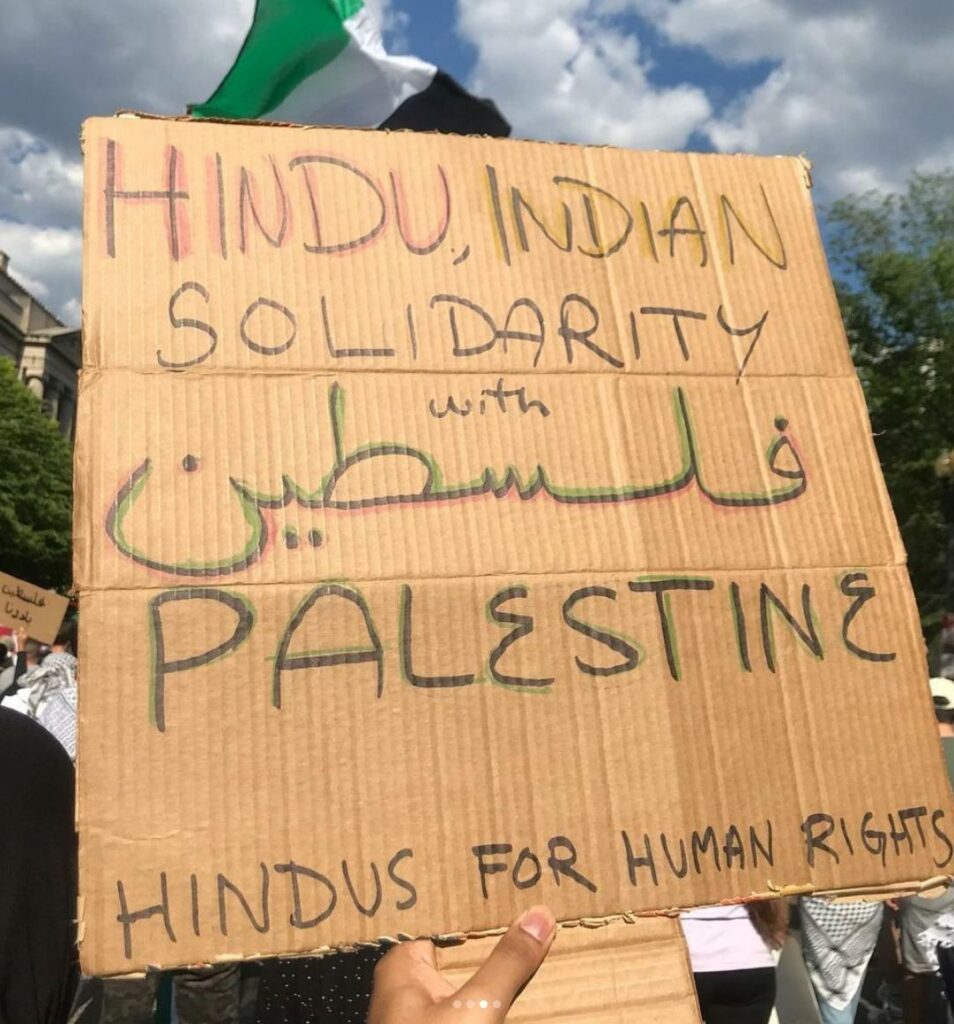 At a protest for Palestinian human rights in Washington, DC. July 2021.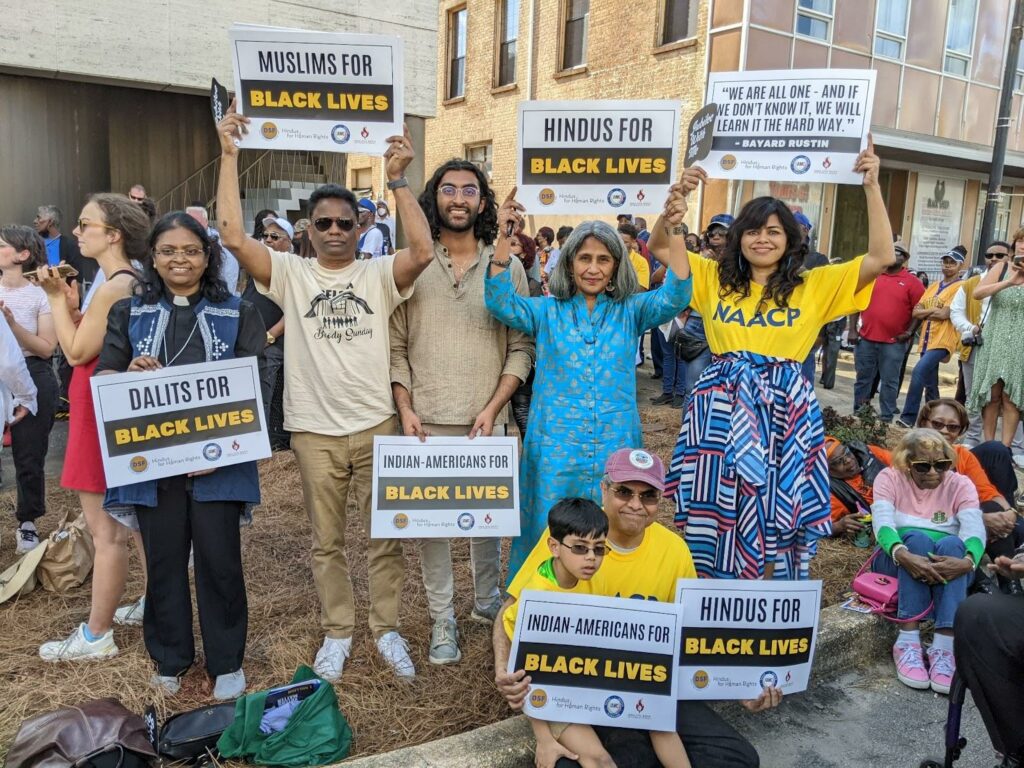 At the Selma Bridge Crossing in Selma, AL. March 2022